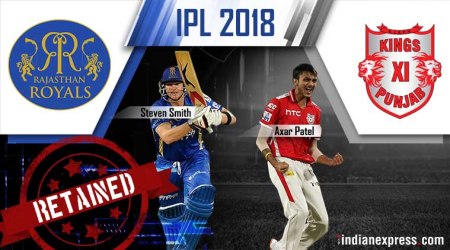 Royal Challengers Bangalore forked out Rs 17 crore (base price Rs 15 crore) to retain Virat Kohli while MS Dhoni expectedly returned to Chennai Super Kings and Rohit Sharmastayed with Mumbai Indians. But the real, and only, surprise of the 2018 IPL player-retention event in Mumbai was Sarfaraz Khan, a 20-year-old uncapped player, getting a retention berth alongside two giants of the game, Kohli and AB de Villiers.
Along with their skipper, Bangalore retained the South African legend for Rs 11 crore and then sprang a surprise by making Khan their third retainee for Rs 1.75 crore. Rajasthan Royals, on the other hand, retained only Steve Smith and parted ways with Ajinkya Rahane, at least temporarily. The franchises that have retained three players can exercise three right-to-match (RTM) card options at the player auction on January 27 and 28. For lesser number of retentions, three RTMs are available. Both Royals and Kings XI Punjab have retained one player each – Axar Patel for Punjab.
"For the 11th season of IPL, we are pleased to retain Virat Kohli, AB de Villiers and Sarfaraz Khan. Virat has been part of Royal Challengers Bangalore since the inception of the league, and is the team's captain, on and off the field. The camaraderie and teamwork between Virat and AB de Villiers has been the backbone of the team for several seasons and we want to build on that ,' said RCB chairman Amrit Thomas.
"Sarfaraz is one of the players we believe will rise to great heights, not just in the IPL but in world cricket. We believe that together, Virat, AB de Villiers and Sarfaraz embody the 'play bold and fearless' outlook that is inherent in the RCB, and we are excited to retain them for the IPL 2018," he added.
A sum of Rs 80 crore being the total salary cap per franchise, including retention and player auction, Khan's retention could also be a case of balancing the books for Bangalore. "They wanted some money (for player auction). It was very obvious. It was a smart and nice strategy to ensure they were not completely out of money. And they still have two RTMs. I think everybody has their own retention strategy and they did really well," Delhi Daredevils CEO Hemant Dua told The Indian Express.
Youth and all-round skill
For his own franchise, Dua banked on youth and all-round ability with an eye to the future. Along with two young Indian players, Shreyas Iyer and Rishabh Pant, Daredevils also retained Chris Morris. The newly-appointed coach Ricky Pontingwas made aware of the choices, which he approved.
"Our retention strategy was clear. These boys got a platform from the last year. Shreyas is already playing well. He is in the ODI team. Rishabh has had a roller coaster season, but he has immense talent in white ball cricket. These two boys, when you are buying them now, you are planning for the future also. You are planning for the next three years. In three years these guys will mature and will become senior players. And Morris is one of the few genuine allrounders," Dua said.
Kolkata Knight Riders retained the Caribbeans, Sunil Narine and Andre Russell. But their decision to sever ties with their most successful captain, Gautam Gambhir, surprised many. "I think it surprised everybody. But at the end of the day, it's their decision. Every franchise decides its own value for a player," said a franchise official on condition of anonymity.
There's a school of thought that Rs 15 crore for a 36-year-old cricketer might not be good value for money and RTM could be a better option instead. But if Kolkata don't exercise their RTM option for the veteran left-hander, some other franchise could be interested in signing him up just to lead the side. Gambhir is hugely respected as a captain and strategist and he is still pretty consistent up the order.
He was the highest run-getter for Kolkata last term, with 498 runs from 16 matches at a strike-rate of 128.02. Gambhir also presided over Kolkata's two IPL triumphs. As for Rahane, this paper understands that Rajasthan Royals were reluctant to spend Rs 11 crore for a player whose limited-overs stocks are on the slide. Rahane is currently out of the Indian T20 squad, while his involvement in ODIs has come down to being a reserve opener. However, it is learnt that Royals in all likelihood will buy back Rahane at the auction through RTM.
'Ricky brings winning attitude'
Meanwhile, Dua explained the thought process behind appointing Ricky Ponting as the new Daredevils coach. "See, Rahul (Dravid) had to go because of the conflict of interest clause (Dravid is in charge of the India U-19 and India A) and the position fell vacant. Ricky brings with him a wealth of experience. He has won the World Cup, he won the IPL trophy. He has that winning attitude. He is very good with both youngsters and senior players."
Source by:-indianexpress